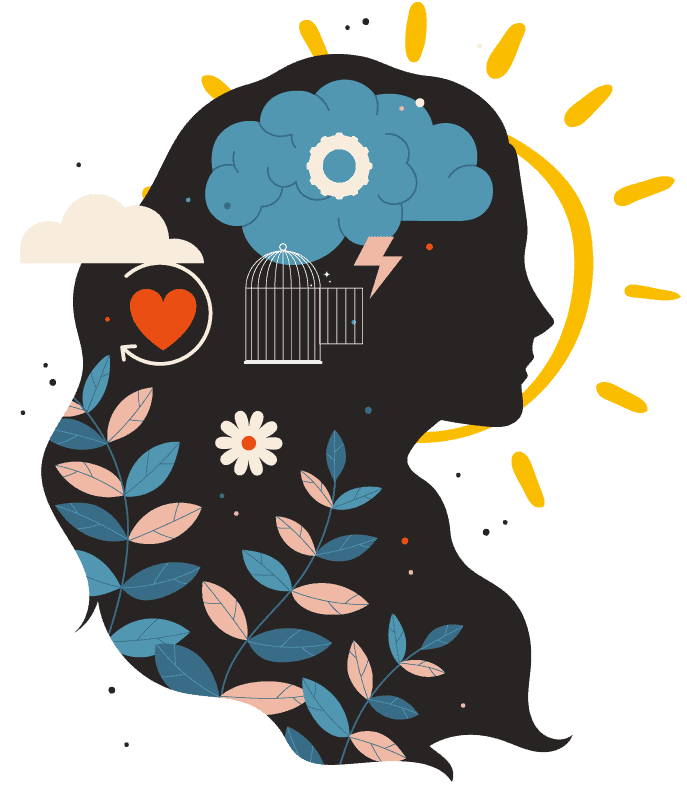 Make the Shift; From Trying, to Commitment, to Lasting Change.
It is OK to have struggles, fears, and concerns, whether business or life-related, but why let them stop you? Most of the time, the clouds of lack of knowledge or limiting beliefs are what block you. To generate lasting change, you must remove these clouds from your mind and commit to your growth. Transformational life coaching services help you identify what is holding you back and take the actions you can uphold.
Key Benefits of Life Coaching​
Professional life coaching transforms the way you think, feel and act into an actionable meaningful way of living. It is a process that changes you. It involves a series of explorations, tools and methods with your wellbeing in the center of all. With my professional life coaching services, you generate the clarity, power, and confidence to create your desired action plan.
This life coaching service is the right one for you if you experience any of the following:
You seek purpose or motivation in business or personal matters.
You seek work-life balance improvement and better time management.
You seek something greater in life or feel stuck.
You want to build better relations with family, friends, or colleagues.
You seek courage, strength, passion, and confidence as things change around you.
You want to have more creativity.
You have difficulty making decisions, or you need help with accountability.
You want to improve your health and live better.
What is Life Coaching with Chris?
Welcome to your life-enhancing experience. Allow yourself to open up and transform. Find clarity, take control of your life, commit to change and act purposefully.
Online 60-minute private structured life coaching session.
Complimentary 30-minute discovery meeting for new life coaching clients.
Life coaching that is tailor-made to your goals and needs.
Safe and confidential sessions to share the things you want.
We all need someone to talk to. A life coach is more than that. Your life coach is professionally trained to support and guide you towards achieving your goals. 
Professional life coaches will not try to imprint any of their own opinions on you. Instead, they will help you remove any blocking you may have towards your desired goals and support and encourage you to keep up and be accountable. 
Life Coaching "pokes your brain" and helps you find what you truly want and then keep up with making it happen.
What do life coaches do? Are they limited to specific topics? Your goals may vary from personal projects to professional ones or with changes in your life. Coaches help you identify each and then help you analyze each case, going deep inside your thoughts and beliefs or any other obstacle and help you see these obstacles and understand them. Then they help you identify your plan of action towards your desired goals. A plan that you can uphold.
While professional life coaches encourage and support you with tools and methods to see everything for your goals, they won't just use "motivational speaking" that has no lasting impact on your goals. They are excellent at finding all the positive values, skills, and potential you already have and may have never noticed all these years. In all these ways, a professional life coach can help you achieve results.
Why is it essential to have a life coach? Having the proper mindset is crucial for any personal or professional goal. A life coach helps you with that, as they help you see the reality of things. Seeing the fundamental nature of things and thoughts and their origins gives you the confidence that knowledge gives.
Have you ever experienced any "aha moment" in your life? Do you remember that the thing you discovered was not born there but existed already? You just removed the clouds that stopped you from seeing it. With that knowledge and confidence, you can plan what to do and when and set milestones you can keep up with. Yes, sometimes it is that simple, but the help of a life coach makes it happen and appear clearly in front of you.
When you want to do things right, there is no point in wasting time doing experiments that lead nowhere and cost you on many levels. A life coach helps you to eliminate that wasted time by applying laser-focus methods, tools, and questions towards your goal.
When you don't know what is holding you back, you have zero knowledge of how to act and plan your life or your business.
When you want to grow and live better, you want to know what blocks you from that happening right now. Is it a lack of resources or a lack of insights and knowledge? Could it be some limiting beliefs and fear? Life coaching helps to "Know Thyself." That is to know who you are and what you want.
Are you still wondering what is a life coach and what they can do for you? If so, book a free 30-minute discovery meeting, and I will answer all your questions.
FAQs for Life Coaching Services